Press Releases
Wexton Launches Social Media Campaign to Spotlight Stories of Human Rights Abuse Victims Throughout Beijing Olympics
Washington, February 4, 2022
Washington, DC – As the 2022 Beijing Winter Olympics kick off today, Congresswoman Jennifer Wexton (D-VA) is launching a social media campaign to spotlight the brutal human rights atrocities committed by the Chinese government. While the world watches the spectacle of the Games, the Chinese government is waging a genocide campaign against Uyghurs and other Muslim minorities in Xinjiang, cracking down on democracy movements in Hong Kong, and erasing the culture and religion of Tibetans.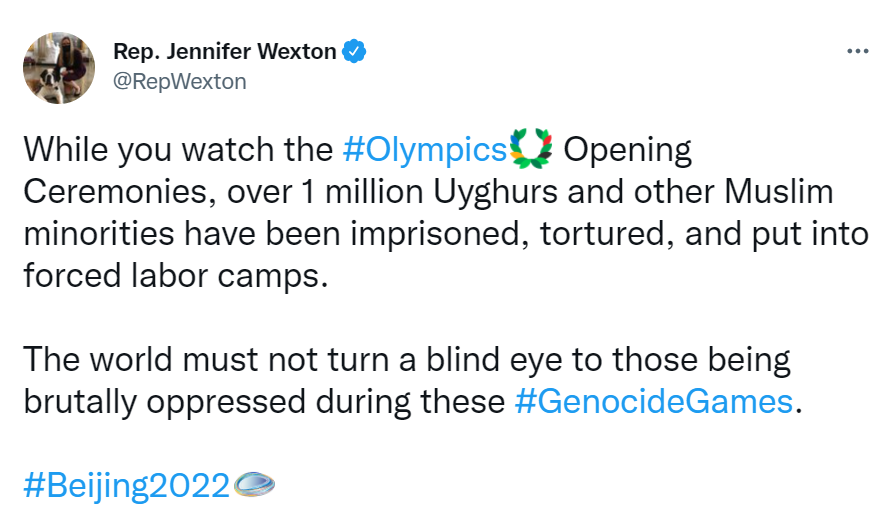 The International Olympic Committee (IOC) as well as the Games' corporate sponsors – which include Coca-Cola, Visa, Intel, Procter & Gamble, and Airbnb – have chosen profits over their responsibility to speak out against the human rights abuses.
"I called on the IOC to move the Games, and they refused. I called on the corporate sponsors to do their part and not be complicit in the cover up of these atrocities, and they have remained silent. We cannot let the Olympics come and go without telling the true story of these Genocide Games. I'm sharing these stories of abuse, assault, and oppression so more Americans can see and understand the horrors being suffered by so many right now at the hands of the Chinese government," said Congresswoman Jennifer Wexton.
Wexton is a member of the Congressional-Executive Commission on China. As the representative of one of the largest Uyghur diaspora populations in the U.S., Wexton has been a longtime advocate for the victims of genocide and other abuses in China, as well as condemned the IOC and its corporate sponsors for putting profits over human rights, including the safety of Peng Shuai.
You can follow along as Wexton shares these daily stories on her Twitter, Instagram, and Facebook pages.
###